My Camping Stories 2
My camping stories with Jean.
This story occurred the first time I was invited to go camping by my friend Jean, who was invited to go camping by others. Every one except Jean's and my children were older than me by at least 10 years, most being senior ladies. I shared a tent with Jean and our children shared another tent.
It was night time and I was in the tent and just had to pee. This was before I took anything to use as a camping toilet. The bathrooms were about 400 yards away from our campsite. We were camping at the far end of the camp ground.
I stepped out of the tent and there on the ground in front of their tent was Mrs H. and her friend Ms O., two senior ladies. Mrs. H. had cramp in her leg.
She asked me if I could get her some lotion so it would be easier for her friend to rub her leg. So I stepped back into the tent but I couldn't go any further, I could barely hold it. So I stepped back out of the tent and said, "I can't" and rushed off to the bathrooms.
It was a lovely bright moonlit night and when I got about 50 yards away I could not hold it any more and went right there in all the lovely moon light for anyone to see.
When I got back to the tents my friend Jean had gotten Mrs. H. the lotion, but she was mad at me for a couple of years. She would tell Jean how I wouldn't get her the lotion, and Jean would try to defend me and say, "well she had to pee".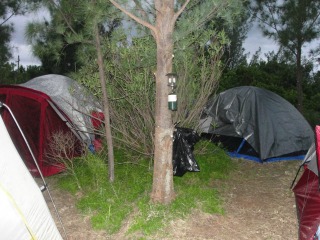 Here's another one of my camping stories with Jean.
Once again she invited me to go camping with the seniors, and again we shared a tent. This time she had to pee. She went down a little trail by our tent and shortly I heard ooh, ooh, ooh.
When she got back in the tent she said she fell in the cactus, but she didn't want to cry out loud because the men might have run to help her.
Ladies be sure to take some type of camping toilet, even a large cool whip container can work and it has a top...
Click here to read other stories and to share your tent camping story...